Do You Travel A Lot? Let Us Help!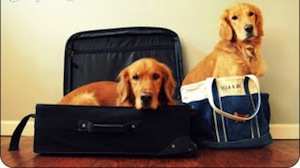 If your job requires you to travel a lot and leave your furry friends behind, then let our trusted staff at In-Home Pet Sitters lend you a helping hand. We know that it can be stressful to leave your pets behind when you need to hit the road for work, which is why our staff is available to look after your animals. This way you can have one less thing to worry about while you're away.
If your going out of town for a conference or other meeting, we offer vacation pet sitting if this is a one-time occurrence. However, if you travel often and hate to ask your neighbors to check in on your pets, then let us help! Not only can our staff check on your pets, we are also available for mid-day potty breaks as well as private dog walking. Also, if you already have a vet appointment scheduled and don't want to cancel it, we will be more than happy to take your pet to the vet. Don't let work or travel take away from the needs of your pets, let our staff assist you and give your pets the attention they need while you're away.
All of our pet sitters are thoroughly background checked, bonded, and insured through In-Home Pet Sitters. We will not put anyone in a home that hasn't passed our test. The safety of the pets and homes are the most important part of our business. If you are looking for pet sitting in Brevard County, Florida then give our staff a call today to see how we can help you!