Top 3 Summer Vacation Spots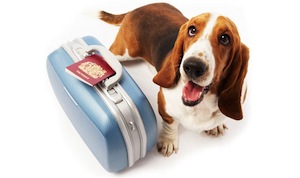 Summer vacation is almost here and Travel and Leisure named their favorite US cities for summer travel and In-Home Pet Sitters wants to inspire you to take an amazing vacation this year—you deserve it! It's always exciting to pack up the family and take a trip to a tropical island or a cool cabin up in the mountains, but wherever you go it's difficult to take your pets with you. While dogs can be good traveling companions most hotels aren't pet friendly, which is why our friendly staff at In-Home Pet Sitters will be more than happy to watch your furry friends while you're out of town.
Travel and Leisure named Portland, Oregon, as it's number one best city in America. "You can literally taste summer in this northwestern city: top-ranked farmers' markets bursting with berries, fresh-caught salmon at inventive cafés, and plenty of cool summer drinks," the magazine's website explained. While I've never been to this city, I'm sure there's a ton of fun activities for the whole family to partake in.
Seattle is number 2 on the list of cities to visit in the US. "The notoriously drizzly city—which came in last place for winter visits—actually stays pretty dry and sunny throughout the summer. It's a great time to get outdoors, whether buzzing around in seaplanes or hanging out in the great city parks. You can also get a good look at massive Mount Rainier, which, for the rest of the year, often hides behind clouds," Travel and Leisure shares. So if you and your family like to be outdoors and take on new adventures the Seattle just might be the place for you—and don't forget to try their coffee!
Apparently, it's all about Portland this summer. Number 3 on the list was Portland, Maine. Not only will you be able to try their lobster, you can "always paddle off in a kayak or walk the cobblestoned streets of the Old Port," Travel and Leisure suggested.
Wherever you go this summer on vacation, don't let the stress of what to do with your pets get you down. Our staff will love and care for your animals as if they are our own, so there's no need to feel bad about taking a vacation! When you need pet sitting services in Melbourne, Florida then give In-Home Pet Sitters a call today!