Celebrating National Fire Pup Day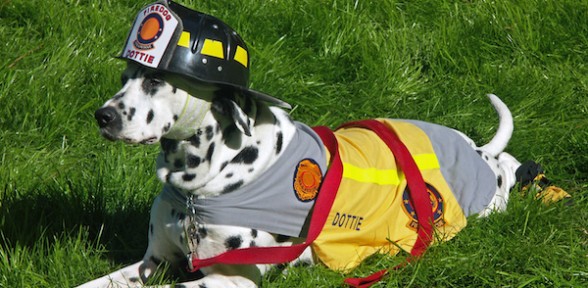 At In Home Pet Sitters we know that pets are special creatures and they deserve to be celebrated. October 1st marks National Fire Pup Day so we'd like to take the time to acknowledge the history of the four-legged members of our fire departments.
Originally Dalmatians were used by the wealthy to run alongside a horse-drawn carriage to defend the horses from animals that might approach or alarm them. Soon Dalmatians began working with firefighters, after hearing the fire alarm they would bark to alert people that the fire engine would soon be entering the roadway. When the fire engine took to the roads the Dalmatians would run along side and protect the horses. Once they arrived at the fire the Dalmatians acted as watchdogs for the rig and horses. Despite today's lack of horse-drawn carriages, Dalmatians are still a staple of many fire departments and often can be found riding inside the modern fire trucks and catching rats at the fire station.
As your resource for in home pet sitting, we enjoy sharing pieces of pet history with you. If need someone to look after your hero of a pet while you're away, contact In Home Pet Sitters for caring and professional pet sitting services.