Don't Fret; We'll Take Your Dog To The Vet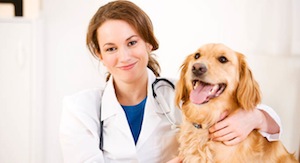 In-Home Pet Sitters is available to assist you with many of your pet problems and that includes trips to the veterinarian's office. If you are new to the area or simply have no one to call to get your pet to their vet appointment on time then let us help you out!  Our experienced pet sitters will be more than happy to pick up your pet and take them to the vet for you.
There's no need for you to sneak out of work early or drive 95mph just to make it to the vet's office on time. In-Home Pet Sitters can pick up your dog, cat, or other small pet from your home and transport them to the veterinarian's office. All of our pet sitters are thoroughly background checked, bonded, and insured through In-Home Pet Sitters so you won't have to worry about your pet while they are at the vet's office.
We know it's often difficult to schedule your own doctor's appointments around your work hours and it can be even harder to find the right time to take your pet in, but there's no reason you should have to stress out our put the vet visit off until next week. Let our experienced team help you out when you need pet sitting services in Melbourne, Florida, so please feel free to give us a call at 321-794-4477.