Styles of Dog Walkers: Which One Are You?
What style of dog walker are you? Walking your dog can be a challenging, yet rewarding. We've determined that there are three different styles of dog walkers. Which one are you?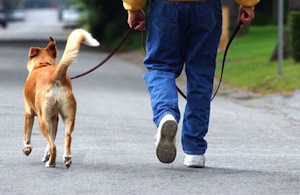 The Runner
If you are an avid runner, you may fall into this category. Several breeds of young, healthy dogs do appreciate an occasional fun run. Make sure you have good control of your dog's leash, and the length is just right. Let's face it, there are mailboxes, bicycles, and even a car here and there along many dog walking/running routes. Most importantly, make sure your dog has access to water as soon as you return home from your run. Dog walkers are fun people and when dogs run alongside them, it makes the experience a little more adventurous!
The Slacker
Do you like to take your time and meander as you walk your dog? If so, you may be considered a slacker. If you need an alarm to remind you that it is time to walk your dog, you may also be considered a slacker. Now, there are many plusses when it comes to being a slacker. You can hear a bird or two along your walk, as well as the sound of the ocean if you walk your dog down by the water. Waves along the beach can be soothing to both of you. A clear blue sky with puffy white clouds is a view that the slacker will also appreciate.
The Class Clown
Does your dog like to tug on his/her leash? If so, you may be considered the class clown! We've all experienced it at one time or another. There's always one dog that wants to be the leader of the pack and do their own thing! If your dog is bold and set in their ways, you have earned the title of the class clown. The upside to this? You are always smiling and laughing while walking your dog, as you never know what funny move they will do next!
If your dog has turned you into a runner, slacker, or class clown let our friendly staff at In Home Pet Sitters know. We want to know how your dog is used to being walked. We can't guarantee that we can be you, but we can sure give it a go! Keeping your dog in his/her regular routine is very important to us.
Give us a call at 321-794-4477 to set up a time for us to get to know you and your dog! We'll walk your dog and more the next time you leave town.